Meet Jen: Our lead aesthetician and skincare enthusiast
May 1 2017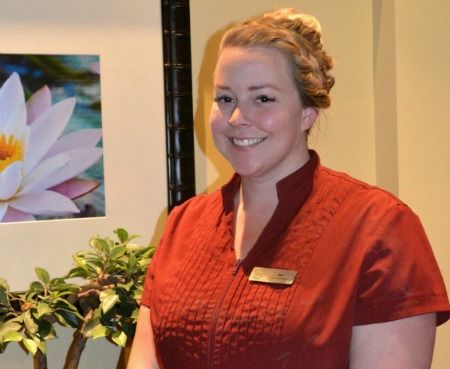 Jen Chomick, our lead aesthetician at The Spa Ritual is passionate about helping those who struggle with skin issues, especially acne. She also specializes in anti-aging treatments and oncology aesthetics.
"I struggled with my skin my whole life," says Jen. "I was on everything from Accutane, to Proactive, to switching my skincare often because I couldn't find anything that worked."
Everything changed when Jen began her education at the European Institute of Aesthetics in Edmonton. It was there that she was able to learn about the chemistry of the skin, the different layers, how they work, and what types of products and ingredients should be used on specific skin types. Being introduced to proper skincare helped her find the right routine and products for herself, too.
"That's what essentially changed my skin," she says. "And that is why I focus on educating my clients on how the skin works."
Today, Jen finds fulfillment in leading the aesthetics team and helping Guests learn how to properly care for their skin concerns.
"Whenever a Guest comes in with any grade of acne, I can relate to them and understand the struggle," she says. "I can quickly determine whether or not they are stripping their skin and I can share my own story and show them what they need to do."
Jen's acne tip: Scrubbing acne can irritate your blemishes and cause them to spread. She recommends using an AHA or BHA exfoliant as an alternative.
Her product line of choice for home care is Celazome. Due to its effectiveness, slow-release technology, botanicals that nourish the skin, and retinol for skin cell turnover, Jen is a firm believer in the brand. Her favourite spa service to provide is the 90-minute Anti-Aging Facial because it gives her more time to focus on the skin. The longer treatment time also allows the Guest to enjoy a luxurious massage, deeper cleanse, and double exfoliation.
"I am very intentional in my services - so I really like to set a peaceful intention, use pressure in the facial massage, and not only help the client achieve results, but relax and leave the outside world behind," she says. "When Guests come out of the treatment room after a 90-minute facial, they are a totally different person... they're glowing."
Interested in booking a 90-minute facial with Jen? Click here to save 20% when you book before May 31st, 2017.
Having trouble with the above link? Book using promo code "Jen90" by clicking here.