Why Macey recommends body scrubs as the ultimate spa experience
July 5 2017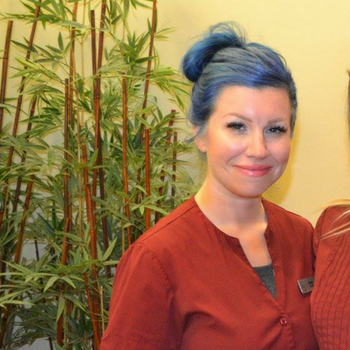 Click here to receive 20% off a Body Scrub with Macey in July.
Before Macey was an aesthetician at The Spa Ritual, she ran her own aesthetics business from home while raising her small children. But as her children grew older, she felt comfortable going back into the workforce and decided to join The Spa Ritual aesthetics team.
"I love working here because it's a nice, calming environment," she says. "I think Guests come here for the same reason. As soon as they walk through our doors, they're able to forget about the outside world."
Although Macey has a knack for eyebrow waxing (an art form she claims is her niche), she also feels that body scrubs are a treatment that encompasses all of the elements of a fully relaxing spa experience and recommends it to Guests often.
"Body scrubs are nice because not only are you getting that exfoliation, toxin release, and skin rehydration, but you also get to experience a bit of a mini massage."
Macey often incorporates the essential oil, wild into her scrubs. She says that almost everyone who experiences the therapeutic scent loves its refreshing and calming benefits. She is also very fond of the Lemongrass body lotion (used in all body scrubs) that is exclusive to The Spa Ritual because it has a soft scent and doesn't leave behind a heavy or greasy residue.
"I've always been into making people feel better about themselves," she says. "Because when they leave here and are happy with their service, it makes me happy too."
At The Spa Ritual, we offer three types of body scrubs: the Skin Perfecting Body Scrub, the Slim and Detox Body Scrub, and the Ritual Rejuvenating Wrap (which includes an infrared-heated body wrap treatment). Click here to learn more about our scrubs.