Massage therapy for chronic pain
July 5 2017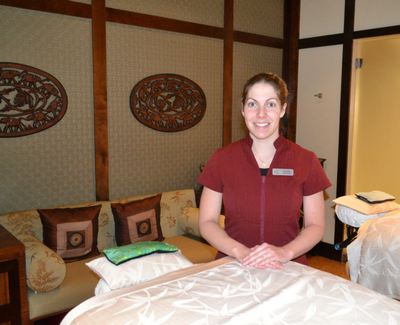 Click here to receive 20% off a Therapeutic Massage with Courtney in July.
When Courtney, RMT, began her career search over five years ago, she knew she was interested in pursuing a career that was health care-related. This led her to simultaneously pursue educations in both massage therapy and EMS. Ultimately, she found massage therapy to be a more enjoyable and relaxing occupation. What she found most fulfilling about it was being able to help people feel better and work through their pain.
"My clients always tell me that my talent is pinpointing the issue and helping them really get it out," says Courtney. "I also like to combine both relaxation and therapeutic techniques to allow them to get the benefits of both."
In order to find the exact area that needs to be worked, Courtney runs her thumbs and elbows along the muscle until she feels a road block or bump. She then works on that area to increase blood flow and help reduce the pain.
"I recently took a course that deals with chronic pain and how your brain reacts to it," she says. "Pain is often more of a problem in the brain as opposed to a problem in the body tissue. This is because our perception of pain comes directly from the brain."
In her chronic pain course, Courtney learned how to incorporate breathing techniques, tai chi, and yoga into pain management.
Tip from Courtney: When experiencing muscle pain, it can be helpful to focus on your breath and allow yourself to accept what you are feeling and acknowledge the pain, but not dwell on it. When you dwell on the pain, it can cause you to perceive it as more severe than it really is.
Massage therapy can help with pain management as it releases hormones, oxytocin, and endorphins - calming the body and decreasing adrenaline.
"I definitely recommend that Guests come in for multiple treatments in conjunction with their other forms of chronic pain therapy," says Courtney. "The more blood flow you have to an area, the faster the area will heal. Even with scarred tissue, massage therapy helps to break up that scar tissue and prevent it from building up."
Note: Please consult with your doctor before using massage therapy as a form of chronic pain management.